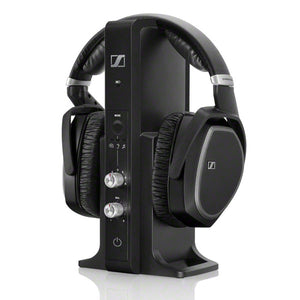 Over time, our hearing naturally evolves. Although this is perfectly normal, the changes can alter the quality of the sounds we experience, for example when watching TV or listening to music. The new RS 195 wireless headphones take these changes into account to provide exceptional sound that can be fully personalized to your hearing. Sennheiser has refined its technology to offer simple and intuitive settings that enhance speech intelligibility and reproduce the slightest details of your favorite music. Youll forget that you are wearing headphones thanks to the comfortable ergonomic design that is ideal for long periods of listening.With the RS 195, rediscover the subtle details of your favorite sounds.
Best ever
My third generation of Sennheiser wireless headphones. Each generation has enabled me to hear better. And I mst say their customer service has always been professional and helpful.
They work
My mom is a senior who has a hard time watching TV when the volume is not in the 80's and not enjoyable for me. I have to leave the room when she watched TV. now its great I can turn the volume all the way down to zero if i dont want to listen to it and she can still enjoy her programs. the only issue is she cannot hear me if I am speaking to her she has to take them off.
Top
Sehr gut für jede Verwendung, da verschiedene Klangmöglichkeiten, wie Sprache oder Musik. Reichweite ist unschlagbar. Auch in anderen Zimmern kein Hacken beim Empfang
Incredible sound
Since I started using these headphones I have heard sounds which I haven't heard for years due to hearing problems. The clarity is exceptional. Now I have surround sound from the TV without rattling the windows. A Quality product.
kombliziert zum anschlisen._Zudem höre ich nicht mehr so gut,habe mühe mit der Lautsterche es dür...
ich erwarte eine Antwort von Ihnen.