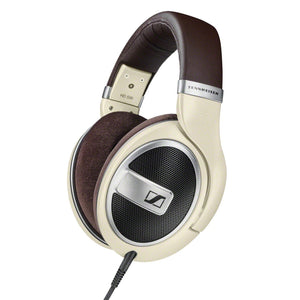 The flagship model in Sennheisers highly regarded HD 500 series, the HD 599 takes home audio enjoyment to an entirely new level. Innovative transducer technology and the open-back, around-ear design make for a listening experience nothing short of breathtaking. Youll hear all of the subtle details of your favorite music in total clarity thanks to the unbelievably precise sound reproduction capabilities of the HD 599, but thats not all. Their comfortable fit and classic aesthetics are sure to make these headphones a welcome addition to your listening room as well. High-end listening pleasure has never been this affordable. Sennheisers HD 599: a touch of audiophile sound without an audiophile price tag.
Almost perfect
My only complaint is that im not a fan of the fabric of the ear cushions. A minor complaint which is just personal preference.
Other than that, everything is 10/10
Comfort and sound are unbeatable for this price
I have tested several over-ear headphones in terms of wearing comfort and sound. The HD 569 (which I already had) and the HD 599 were by far the best in this regard. The headphones reproduce any music whether classical, rock or pop with equal transparency and neutrality. The optics and workmanship of the HD 599 are very valuable and reflect the good quality of the headphone. For on-the-go use it might be better if the 1.2m cable comes with a 3.5mm right-angle plug. Definitely five stars!
Old pair sounds better
I have mm400 that sounds better. The 599 lacks bass & highs are somewhat tinny. EQ doesn't help much. Guess I'll keep the old pair until I find something better.
They're ok
Lows come through well, but highs are muddy. Fit was too tight for my wide head.