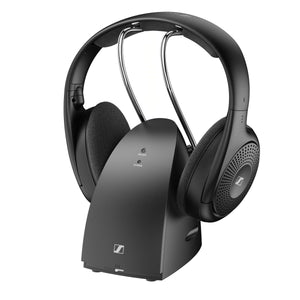 Sennheiser RS 120-W On-Ear Wireless Headphones for crystal-clear TV Listening with 3 Sound Modes, lightweight design with easy volume control, 60m range and convenient combo transmitter/charger
High-quality Sennheiser sound: Enhance your TV listening with crystal-clear, detailed, well-balanced stereo sound.
Sound modes: Three listening profiles - Speech, Music, Neutral - to adjust the sound to your preference for TV, music, podcasts, and streaming video.
Easy volume control: Ergonomic control dial directly on the headphones offers intuitive volume adjustment.
Exceptional comfort: Lightweight on-ear headphones with low headband pressure for optimal wearing comfort during long TV sessions.
Long battery life: Up to 20 hours playback from the rechargeable AAA batteries.
Up to 60m range: Digital wireless transmission ensures no analog static for listening freedom around the home.
Combination transmitter/charging dock: Easy connection to TVs via RCA or 3.5mm plugs while providing a convenient charging station for the headphones.
Broadcast transmission: Enables several receivers to be used with one transmitter for shared viewing experiences.