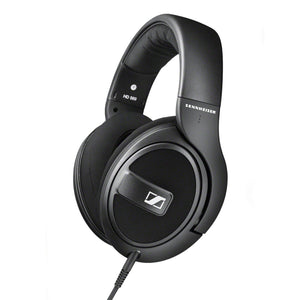 Occupying a unique position in the HD 500 series, the HD 569 is an excellent addition to your home entertainment system, but its closed-back, around-ear design makes it equally suitable for use in any listening environment. Proprietary Drivers from Sennheiser provide clear, powerful sound reproduction with thrilling bass response, and the closed-back ear cups reduce ambient noise to a minimum for undisturbed listening pleasure. At the same time, this design also guarantees that you won't be disturbing others – even at higher volumes. In addition, the convenient single-button remote on the cable makes it easy to take calls and control music playback on your portable device, so you'll definitely want to take this headset with you, when you're out and about. Enjoy Sennheiser sound quality wherever you are with the HD 569.
Powered by proprietary Sennheiser 38mm, 23-ohm transducers
Soft, replaceable ear pads for enhanced comfort
Two cables included - 3m detachable cable with 6.3mm jack and 1.2m detachable cable with 3.5mm jack with in line microphone and remote for call and music control
More info
THE SENNHEISER HD 5 SERIES - THE BEST IN CLASS. REMASTERED.
As successor to our popular HD 500 series, the Sennheiser HD 5 model range offers high quality and value in any aspect. Powered by Sennheiser's proprietary transducer technology including the Ergonomic acoustic refinement (E.A.R.) design, which channels the audio signal directly into your ears. Featuring a contemporary design that is both attractive and ergonomic. A real treat for all, who listen to their music with a sense of discovery.
Get the latest edition of the legendary Sennheiser sound with these brilliant headphones.
---
SENNHEISER HD 569
A true companion for real life, this noise-isolating over-ear headset lets you manage phone calls with its in-line remote, and enjoy your music anytime, anywhere.
ENJOY THE FREEDOM OF LISTENING
The closed-back over-ear design of the HD 569 provides you with two benefits: Firstly, a great soundstage, brilliantly filled by Sennheiser's proprietary transducer system with rich detail and a powerful bass response. Secondly, an effective acoustic isolation - outside noise stays out, the music stays in. So you can enjoy your music without disturbing anyone.
LISTEN TO YOUR MUSIC, TAKE YOUR CALLS
Excelling in versatility, the HD 569 comes with two detachable cables. One is a 3-m cable with 6.3-mm straight plug for home use. The other is a 1.2-m cable with a 3.5-mm straight plug, but most of all with a 1-button remote plus microphone that lets you manage calls.
LIKE SOUND, LIKE COMFORT
With its over-ear design, the HD 569 offers exceptional wearing comfort for even the longest of listening sessions - or phone calls, for that matter - thanks to its large ear cups and soft replaceable ear pads.
In the box
1 x HD 569 headset
1 x 1.2m cable with 1-button remote and 3.5mm straight plug
1 x 3m cable with 6.3mm straight plug
Great price for good sound
Very comfortable and have a great sound to them.
Very Comfortable
Very Comfortable, good at sound isolation
Very satisfied
Fits great and feels comfortable. Love the extra cable to use with my phone. Sound is good for my uses
HD 569 review
After using earbuds for several years, there is an adjustment to headphones. For example, am I hearing more than I got from the earbuds? The bass is much different and it seems that some of the mid tones are not as clear. Not bad, the mids through the headphones just do not have the same dominance as with earbuds.
Overall the 569s are very good. They are not heavy like headphones of 15 years ago. I like the interchangeable cords.