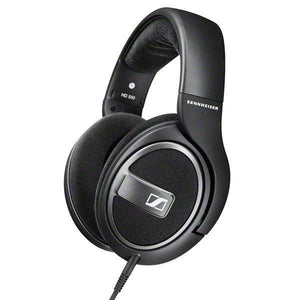 Sennheisers HD 559 is without question an exceptional value in the world of fine home audio equipment, and the uncompromising performance of these headphones will amaze you. High-quality dynamic drivers deliver intense, exciting sound and deep bass response that will bring your favorite music to life, while the open-back, around-ear design and comfortable fit guarantee hours of pure, untroubled high-end listening pleasure. Unleash the true potential of your home entertainment system with Sennheisers HD 559.
Good studio headphones
I'm pleased with the headphones, they're comfortable and I didn't need wireless. I didn't check before but they have a phono connection and I assumed it would be a smaller one to fit my phone. We have to get an adapter to do this. Otherwise they're a very solid headphone.
Klangqualität
Dies ist schon der 2. Sennheiser Kopfhörer und wieder mit ausgezeichneter Qualität. Sehr überzeugend, einfach super.
Perfect
Purchased for music production. Very happy with them. Good quality sound and a very comfortable fit.
Sennheiser 559
Very comfortable, great frequency response across the spectrum, not too boomy. Excellent value for money.
My Personal Review...
This is the 2nd Sennheiser HD559 headphones I bought, so I now know something about the sound quality.
And this one is perfect and is connected to a Studio Monitoring sound card.
Back in time: August 2021 I bought this for the first time.
My listening experience with it is excellent. A new world really opened up for me.
Wow, you really heard all the details of the music from low to high and without distortion or exaggerated low end.
I compared it to some older Sennheiser models I have.
The headphones are comfortable and I can wear them for hours without getting any pain in my ears.
I've been using the Sennheisers for over +45 years and started with the HD414 (2k impedance) and they were already super in those days.