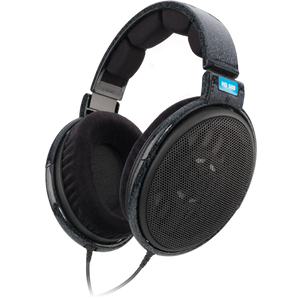 The HD 600 is an audiophile-grade open dynamic hi-fi/professional stereo headphone. The advanced diaphragm design eliminates standing waves resulting in a clean sound free of artifacts and acoustical disturbances. The HD 600 is a fantastic addition to a hi-fi stack or dedicated listening room, and is a favorite among mastering engineers worldwide.
Love my new HD 600s
My new HD 600s are my first open-back headphones, having used the closed-back HD 380 Pros for many years. The 380s have great detail, nice bass, and flat response, and I still love them, but wanted a pair of open-backs too.
So far, the 600s appear to have a similarly flat response, excellent bass, and have been a complete joy to wear for long periods. I found my ears tiring after a while with the closed-back 380s, but the 600's allow my ears to breath, allowing for longer listening sessions without fatigue. I use them only in my studio, so leakage isn't an issue for me. I almost opted for the HD 650's, but the 600's are tried and true and still fetch a high price, so Sennheiser obviously did something right with these. I'd highly recommend them to anyone needing a realistic representation of their sound, with added comfort.
To be honest, I didn't know what I'd think about the straight cable, though, having had the HD 380's coiled cable for so long. The cable on the 600 appears durable, but is supple and soft to the touch, not stiff, and I've found that I actually like it better than the coiled cable, which tended to pull on me (and it is heavy). So for you coiled-cable users out there, don't let that deter you. I've adjusted quite nicely, and actually think I prefer it now, even the double sided connections, vs the single side on the 380s.
Great headphone
great service from Sennheiser
Reference
A definite must-have for every audio enthousiast. The perfect reference headphone to set a benchmark for the rest of your collection.
10/10
The best headset I've ever used, both sound wise and comfort wise, I have full intention when the pair I have now break to by another pair