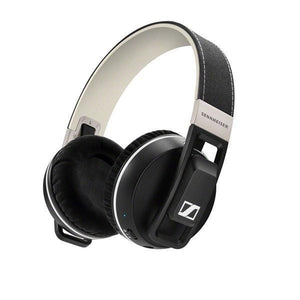 The perfect choice when craving pure bass-driven club sound and the freedom from wires, without compromising audio quality. These Bluetooth enabled, NFC compatible, over-ear headphones use the apt-X codec for high fidelity sound. Includes a state-of-the-art intuitive touch control panel on the foldable headphones: just slide your finger to adjust the volume or tap to control music and calls. Includes a soft carrying case, universal remote cable for devices without Bluetooth, and a USB charging cable.
Wireless Freedom - Bluetooth® 4.0, NFC, voice prompts, 3-way-calling, multi-connectivity

CD-quality audio - featuring the apt-X codec, the URBANITE XL Wireless can connect wirelessly to any Bluetooth® apt-X-enabled device

Simple to use - intuitive touch control panel on ear cup and convenient connection with two devices simultaneously (phones and computers)

Hours of use - 25h of music without recharging, 15 days of stand-by time- please charge before using for the first time

Peace of mind - 2-years warranty
More info
Listening lovers love the URBANITE
Thousands of ears around the globe are already big fans of the URBANITE with its powerful bass, its timeless design and its robustness in everyday life.
Are you ready to become a listening lover, too?
All the power, all the music, total freedom
The URBANITE XL WIRELESS headphones add Bluetooth® and NFC to the winning URBANITE formula. Set up is effortless thanks to NFC which allows easy Bluetooth® pairing to NFC compatible devices. Use of the latest Bluetooth® 4.0 standard enables multi-connectivity pairing up to 8 different devices as well as simultaneous connection to 2 devices.
Intuitive touch control panel
URBANITE XL WIRELESS includes a state-of-the-art intuitive touch control panel on the headphone: just slide your finger to adjust the volume or tap to control music and calls.
Massive bass without compromised clarity
The URBANITE XL WIRELESS is completely dedicated to delivering only the most intense sound pleasure that will reflect the skill of Sennheiser's uncompromising aural expertise. It serves up massive bass, while still ensuring excellent clarity through the entire frequency range, making ears feel like it's their first time with a pair of headphones all over again.
Designed with durability in mind
The materials of the URBANITE XL WIRELESS have been selected for lasting passion. The robust quality of its premium stainless steel hinges and aluminium sliders mean they last for years.
Always ready to go
With its outstanding flexibility, the URBANITE XL WIRELESS can bend over backwards for you again and again. Its supple, foldable design allows for pleasuring listening and its collapsible sides allow it to cuddle right after in its own special storage pouch.
In the box
1 x URBANITE XL Wireless mobile stereo headphones
1 x Detachable cable with in-line remote control and integrated microphone
1 x Soft pouch
1 x USB charging cable