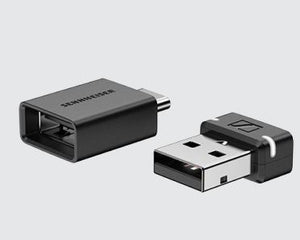 The BTD 600 Bluetooth® dongle is the easy way to connect Sennheiser headphones to a PC or Mac for maximum performance. You just pair it and forget it. Bluetooth® 5.2 and aptX audio codecs transmit high-definition music, clear calls, and perfectly synced videos so you get the best experience your headphones can offer
Perfect USB dongle
A beautifully designed masterpiace among the many USB dongle on the market.
The light indicator leds and the small form factor are a pretty good match, nice job Senn!
Gute Wahl
Ich habe den Dongle für meine Momentun 4 Kopfhörer gekauft, um den Kopfhörer auch am Laptop nutzen zu können. Bestellabwicklung und Versand haben problemlos geklappt, schneller und einfacher als gedacht; die Instalation ist selbsterklärend unter Windows 10.
Der Klang ist sehr gut, die BT-Verbindung ist über 10m stabil.
Der Dongle ist absolut sein Geld wert.
Easy setup - start - no interference!
I love this better that having to reconnecty Bluetooth headset every time I need to use it. After pairing with thr BTD, when I turn my headset on, it connects and is selected as the default device on my Windows system. And, no interference from any other nearby Bluetooth devices!
Works perfectly, 0 delay in games
Works perfectly with the Momentum 4, playing competitive games on PC, there is absolutely 0 delay (at least not perceiveable), I didn't expect that