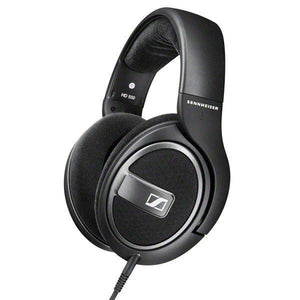 Open around ear headphones for home use
Sennheiser's HD 559 is without question an exceptional value in the world of fine home audio equipment, and the uncompromising performance of these headphones will amaze you. High-quality dynamic drivers deliver intense, exciting sound and deep bass response that will bring your favorite music to life, while the open-back, around-ear design and comfortable fit guarantee hours of pure, untroubled high-end listening pleasure. Unleash the true potential of your home entertainment system with Sennheiser's HD 559. 
Impressive Sound Quality – Proprietary Drivers from Sennheiser deliver thoroughly satisfying sound reproduction with rich bass response
Comfort and Convenience – The secure around-ear fit ensures many hours of wearing comfort, and the luxuriously soft ear pads are replaceable
Long-lasting Quality – High-quality components and durable, carefully selected materials provide years of reliable use. These headphones are protected by Sennheiser's two-year warranty
Detachable cable
Sennheiser Transducers for optimum Sound experience
Comfortable ear pads for long listening sessions
Replaceable ear pads
Excellent product Customer Service a big let down
I must say the product is excellent. Please ensure you get exactly what you need as customer support is a big let down. Still waiting for a response - in todays world manufacturers don't sell products they sell experiences as the product will sell its self. In the past it Sennhiser was unquestionably my number one choice. Now I am not so sure.
Refurbished
So far, i've found no downside to buying refurbished headphones. Great product at a great price.
Headset was missing cables / accessories
The headset only came with 1 6.5mm 3m cable and it did not fit my PC. It was missing the 3.5mm cable and adopter.
More than a fair price, bargain at this price!
I bought the Headphone because my father wanted something in the 50€ Budget, but he was really surprised at the Build Quality and Sound of the Headphone at this price point, i tried it myself and im surprised how good the Budget Lineup sounds from Sennheiser.
At this Price (39€) i can absolutely recommend it, the only thing that was for me missing was a shorter cable, but at this price you dont really have room to complain :)
I Received a product thats identical to a brand new one, just the package had a bit of glue sticking on it, but it was just a really small Zone.
They are also really good for gaming due to the wider Soundstage and open back design, but if you look in something better than look for the other offers from Sennheiser, my personal recommendation would be the HD 560S!
Great stuff
Highly recommended, headphones on the box like new , great deal , definitely will take a look frequently on the outlet