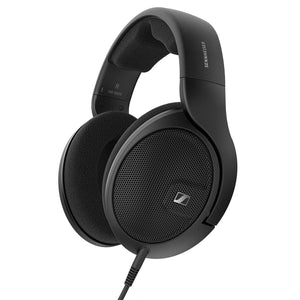 The HD 560S indulges the audiophile evaluating their music's entire journey through the audio path. This open-back headphone is tuned to reveal the truth in your music without sacrificing the gratifying bass response needed to reproduce complex modern music—all at a breakthrough value.
Its transducers are angled to recreate the optimal triangular listening position for a wide, articulate soundstage. The lightweight design of the HD 560S gives the listener a "barely there" experience for extended listening sessions.
The low-impedance drivers offer the flexibility to reproduce hi-fi sound on virtually any of your audio devices such as portable digital audio players, laptops, A/V receivers, audio interfaces and more. A detachable 3 meter cable provides the perfect amount of freedom to access your gear, and features a 6.3mm plug with a flexible 3.5mm adapter. This combination of accuracy, wide sound field, smooth bass performance, and long-term listening comfort make the HD 560S suitable for hi-fi aficionados and music tasks alike.
| | |
| --- | --- |
| Impedance | 120 Ω |
| Frequency response | 6 Hz to 38 kHz (-10 dB) |
| Sound pressure level (SPL) | 110 dB (1 kHz / 1 V RMS) |
| THD, total harmonic distortion | < 0.05 % (1 kHz / 90 dB SPL) |
| Jack plug | 6.35 mm with 3.5 mm adapter |
| Transducer principle | dynamic, open |
| Weight w/o cable | 240 g |
| Ear pad material | Velour |
Great product
I had tight budget with new headphones but didn't want to sacrifice quality and this was perfect solution in this situation.
Product is almost like new and sound quality is perfect. Box looked like a bit used but that was not important.
Overall i give 5/5
Very good price for the quality
The sound is very great for the price tag of 109€
Sound Great
The refurbished HD560s look new and sound great… fast shipping as well
Good all-rounder
This does everything well, though nothing exceptionally well. Still, for it's price, whether refurbished or new, there aren't any other offerings, from what I've seen, that offer the same experience. Neutral sounding with a bit of spice, comfortable and immersive.
Very nice
I was very surprised, expected a more portative version of my AKG 702 and I ended up completely replacing it with the 560S. Very nice sound definition and comfortable to wear for a long time.