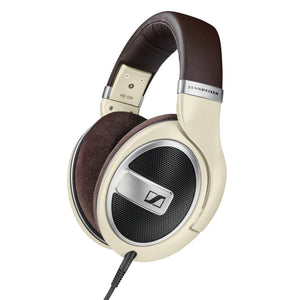 The flagship model in Sennheisers highly regarded HD 500 series, the HD 599 takes home audio enjoyment to an entirely new level. Innovative transducer technology and the open-back, around-ear design make for a listening experience nothing short of breathtaking. Youll hear all of the subtle details of your favorite music in total clarity thanks to the unbelievably precise sound reproduction capabilities of the HD 599, but thats not all. Their comfortable fit and classic aesthetics are sure to make these headphones a welcome addition to your listening room as well. High-end listening pleasure has never been this affordable. Sennheisers HD 599: a touch of audiophile sound without an audiophile price tag.
Sennheiser delivers excellent service and product!
Although refurbished, the HD 599 are as brand new. These headphones have exceptional sound stage and reveal all details that are present in the audio recording. It's all about the balance and finesse that stands out! The HD 599 are well built and pleasingly comfortable as well. Their design rocks! I would like to thank to the Sennheiser team for the incredible opportunity given when people are on a tight budget.
Only one Word.....perfect!!!!!
Exactly what I was looking for
Great looking and great sounding headphones