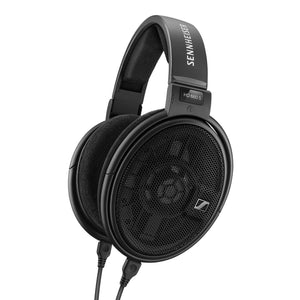 Sennheiser's new HD 660S is the ideal open, dynamic headphone for the passionate audiophile. Meticulously crafted from hand selected components and specially developed acoustic materials, it delivers incredibly low harmonic distortion for an exceptionally natural, lifelike audio experience. With a lower impedance of 150 ohms, the HD 660 S offers the versatility to enjoy reference class high fidelity sound with stationary and mobile players alike.
| | |
| --- | --- |
| Wearing style | Headband |
| Color | matte black |
| Frequency response (Headphones) | 9 – 41,500 Hz |
| Sound pressure level (SPL) | 104 dB |
| THD, total harmonic distortion | < 0,04% |
| Contact pressure | 6.0 N ± 1 N |
| Ear coupling | circumaural |
| Connector | 6.35 mm / 4.4 mm Pentaconn |
| Cable length | 3 m |
| Transducer principle | Dynamic, open |
| Nominal impedance | 150 Ω |
| Weight w/o cable | 260 g |
Pretty much perfect
These days I stream much more music than I play from traditional media, so I thought it was time I got headphones as good as my main speakers.
The 660S has at least as much range and presence as my big Tannoys (and the image is better, as you'd expect). They need a headphone amp most of the time, but I already had a small Arcam, which is easily good enough.
I find them very comfortable and given the quality they were a very fair price. Considering the extra convenience of being able to carry them from room to room, the considerably wider range of music now that I can search online, and my partner's delight that she no longer has to share my listening preferences ... I might even be retiring those big Tannoys someday soon.
Great value
I purchased the HD 660 S headphones directly from Sennheiser for NOK 3500. This is amazing value and a great upgrade from my previous HD 595 headphones. Time from order until I had them in my hands was less than 2 business days, and the shipping was free! Compared to my HD 595 these have more pronounced bass and great comfort with more even clamping force on the head. I have paired them with a Benchmark DAC1 which works great.
The best I've owned
I have used headphones to produce and listen to music and also in video production. These HD660s headphones are the best I've used in 30 years.
Col on Sennheiser 660s
The headphones give clear and detailed sound and delivery was very prompt.