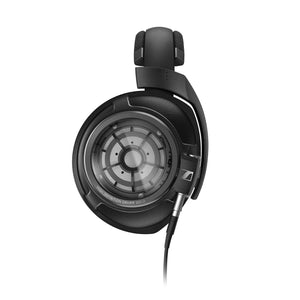 With these groundbreaking closed dynamic headphones passionate music lovers can now enjoy their music at an audiophile level wherever they please, at home or on the move. Featuring unique glass transducer covers that minimize resonances, the HD 820 are simply the most transparent-sounding closed headphones in the world, extending the boundaries of what has been achieved in sound reproduction with closed type headphones up to now. Developed and made in Germany, they offer an incredibly realistic, natural sound field and also stand apart by the extraordinary attention given to every detail of their design. Their soft comfortable microfiber ear pads are hand crafted, providing excellent attenuation of ambient noise, while the robust metal headband includes an inner damping element. Get ready for an unparalleled listening experience.
| | |
| --- | --- |
| Impedance | 300 Ohms |
| Frequency response (Headphones) | 12 - 43800 Hz (-3 dB) |
| Frequency response (Headphones) | 6 - 48000 Hz (-10 dB) |
| Sound pressure level (SPL) | 103 dB at 1 kHz, 1V |
| Ear coupling | around the ear |
| Jack plug | 6.35 mm / 4.4 mm |
| Jack plug | XLR-4 (optional) |
| Cable length | 3m |
| Weight | 360 g without cable |
| Transducer principle (headphones) | dynamic, closed |
Sennheiser HD 820, erste Eindrücke nach einer Woche
Hallo ihr Lieben,
nun haben wir seit einer Woche den 820 von Sennheiser im Haus. In der Woche bin ich nicht so viel zum Probehören gekommen, doch nun am Wochenende war mal mehr Zeit. Vor allem habe ich ihn am IBasso 220max betrieben und diesen habe ich heute über den optischen Ausgang mit meinem alten Denon DA 300 verbunden, von da aus ging es per Cinch in einen Music Hall 25.2 und dann per 6mm Klinke zum Sennheiser rüber.
Kleine Verstärker wie der RU6 und Kollegen, treiben den 820 auch an, doch da kommen die kleinen auch an ihre Grenzen. Das ist laut, der Sound ist auch da, doch so voll Dynamik kommt da noch nicht. Der Ibasso schiebt da schon deutlich mehr, einige von Euch hatten oder haben noch einen 220 max, hier reicht es schon völlig aus, den Sennheiser sehr gut anzutreiben. Der Denon DA 300 erzeugt im Sennheiser einen frechen Bass, der sich bis in die Mitten mogelt und mir echt Spaß macht. Leider ist der Denon eher DAC als KHV und so ist die Verstärkerleistung zwar ausreichend, doch hört da auf, wo es für mich, dann doch gerne mal einen Ticken mehr sein dürfte.
Der Music Hall kann da mehr, als Hybrid bringt er die Leistung und seine Röhren bringen einen Hauch von Wärme in den Sound. Es bestätigt sich also was in vielen Berichten steht, der 820 braucht Schub um einen netten Sound zu zaubern, dann liefert er aber sauber ab. Der Bass geht nicht bis in den tiefsten Keller, ist aber unglaublich sauber und nie am dröhnen. Höhen können echt spitz werden, Mitten sind auch gut dabei, Stimmen und akustische Instrumente werden sehr schön abgebildet. Die räumliche Abbildung -hier habe ich nur Vergleich zur Denon AH-d Reihe- ist echt beeindruckend. Bei einigen Stücken ist es so, als durchwandere man die Musik, bei vielen Stücken werden Details sehr gut wiedergegeben, die Ortung von Instrumenten ist bei einigen Aufnahmen so auffällig, dass ich echt aufhöre nebenbei zu lesen und höre nur der Musik zu. Kleiner Nachteil, Schallplatten und Nadel müssen supersauber sein, die Detailverliebtheit bringt hier nicht nur Vorteile. Ist da Dreck in der Rille oder übel Fussel an der Nadel, dann wird es auf einem Kanal echt übel.
Von mir gibt es eine klare Kaufempfehlung. Wer Spaß an Details hat, nicht unbedingt das Bassmonster sucht, ist hier sehr gut aufgehoben. Die B Ware ist im neuwertigen Zustand gewesen. Kein Kratzer oder Macke, kann man also echt machen und einige Euros sparen.
TipTop!
Ein hochwertiger Kopfhörer mit absolut überzeugendem Klang (in Kombi mit gutem Verstärker). Sehr gutes Preis-/Leistungsverhältnis aus meiner Sicht. Lässt sich trotz geschlossener Bauform sehr angenehm tragen. Eine Spitzenleistung.
Absolutely top
I own several High End headphones (same price range) and this HD820 one is truly remarkable. The sound is perfect all around. It's really confortable and you can buy the building pieces on their own in case they break. It leaks a bit of sound to the outside, so it can bother others around you.
I had the HD800 and these are a clear upgrade.
Der Sennheiser HD 820 ist ein Meisterwerk!
Ich hatte den HD820 mit etwas gemischten Gefühlen bestellt, da ich vorab wahrscheinlich alle Tests und Reviews im Internet gelesen hatte und allgemein sehr schwierig zufrieden zu stellen bin bei Kopfhörern. Einige Reviews von namhaften Testern waren sehr kritisch im Bezug auf die Mittenwiedergabe und das Frequenztal bei 300Hz und viele Kommentare erwähnten die Passform. Ich kann diese Kritiken jetzt nachvollziehen. Sie gehen Hand in Hand und es tut mir leid für alle, die den HD820 so verkannt haben. Ja, man sollte sich die Zeit nehmen, um einen korrekten Sitz zu gewährleisten gerade bei einem geschlossenen Kopfhörer und ich vermute, die kritischen Reviews beruhten alle auf einem falschen. Für mich jedenfalls hat der HD820 den besten Klang, den ich bisher von einem Kopfhörer gehört habe. Die Tonalität über den gesamten Frequenzbereich ist absolut realistisch - ebenso die Bühnendarstellung vor allem bei klassischer Musik und Jazz. Ich habe schon fast alles im High-End-Bereich an Kopfhörern gehört und der HD820 schlägt für mich alle. Ich kann jedem mit Interesse nur raten, diesen Kopfhörer auszuprobieren trotz der teils kritischen Reviews. Sennheisers jahrzehntelange Erfahrung und die Expertise von Alex Grell gipfeln für mich in diesem Kopfhörer und man muss sich einfach die Zeit nehmen diese Vision zu hören.
Hd820
Special sound for closed back, fantastic with eq. Very comfortable to wear and surprisingly lightweight.