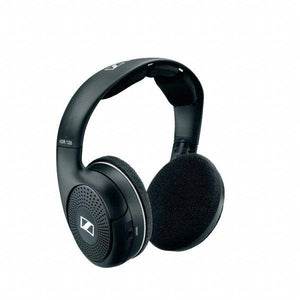 Replacement or additional headphones suitable for the RS 115, RS 117, RS118, RS 119, RS 119-II, RS 120, RS 120-II wireless headphone systems.
The HDR 120 provides a transparent and balanced sound reproduction. Not least because of its extraordinary bass characteristics, it is ideal for playing modern music or as TV headphones. An extremely comfortable pair of headphones with such a high-quality finish that you can look forward to wireless listening pleasure without any restrictions!
Open, ear-hugging design
Detailed sound reproduction with powerful bass
Suitable for modern music of all genres and for TV systems
Conveniently positioned controls for easy and intuitive playback control
Extremely lightweight headphones with high wearing comfort
Attractive modern design
Great Service
From a very simple ordering to quick and efficient delivery of an excellent set of headsets to replace my original pair
HDR 120-8 headphones
We have used these headphones for many many years and by the far the best on the market for over ear and not so tight as other brands. May you long continue to provide them Sennheiser! thank you
TV listening
I have used these for the past several years for listening to the TV as my hearing is not what it could be. They are comfortable and sound great.
Headphones
Over the years we have wireless headphones (HD120) for the tv these have been a replacement for an old pair and are even better and old pair were good