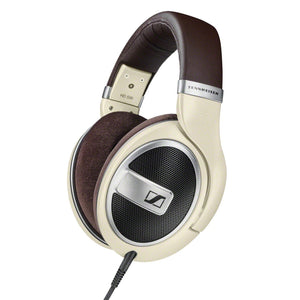 The flagship model in Sennheisers highly regarded HD 500 series, the HD 599 takes home audio enjoyment to an entirely new level. Innovative transducer technology and the open-back, around-ear design make for a listening experience nothing short of breathtaking. Youll hear all of the subtle details of your favorite music in total clarity thanks to the unbelievably precise sound reproduction capabilities of the HD 599, but thats not all. Their comfortable fit and classic aesthetics are sure to make these headphones a welcome addition to your listening room as well. High-end listening pleasure has never been this affordable. Sennheisers HD 599: a touch of audiophile sound without an audiophile price tag.
Exactly what I expected but I think my opinion changed
It might just be that I haven't been using em that long and they feel tight but they are kinda tight and I have a small head
PC use
Excellent choice ... sound in perfect ...
Replaced my old HD 525s
After nearly a decade of use, my HD 525s called it quits. I knew I needed another pair of Sennheiser for the unmatched comfort, and the HD 599s do not disappoint. 6+ hour gaming sessions and the headphones don't cause me any discomfort at all. Sound quality and build quality are both excellent as well. You can't go wrong with a good pair of Sennheiser.
I haven't received it yet?!!