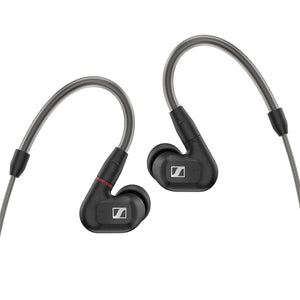 The driving force of the IE 300 is a refined version of our 7mm TrueResponse transducer, revered for its breathtaking acoustic performance in a deceptively compact package. A new blend of materials in the diaphragm improves its rest-and-response times for greater accuracy throughout the frequency spectrum. When resonances are minimized, the enhanced speed brings clarity to higher frequencies, subtly warm mids, and clean bass response with low harmonic distortion. Transients are tight without harsh frequency smearing, letting vocals retain their silky character directly from the master recording to your mind. The XWB transducers reproduce sound that is completely unique to the Sennheiser audiophile legacy—which is no surprise as they are developed and manufactured with exacting precision at our world-class facility in Germany. Although diminutive in size, its output sounds larger-than-life, offering intimate access to your favorite tracks.
Fantastic, superb audio would recommend
Preisleistung passt.
Als B-Ware gekauft mit einem sehr guten Preisnachlass, ist der Ware nicht anzumerken. Die Kabel sind etwas nervig in der Handhabung, die Bügel oder Hörer selber verhaken sich mit dem Kabel, zum Einsetzen benötige ich beide Hände. Der Aufwand wird aber durch den anschließenden Sitz der Hörer im Ohr mehr als ausgeglichen, ein besser Sitz geht für mich nicht mehr. Die Bügel sind spürbar aber nicht unangenehm. Der Hörer wird auch zum Hören von Hörbücher genutzt also ggf. stundenlang. Der Hörer hat etwas mehr Bass, ist detailreich, klingt sauber, ist also führ Leute die mit einem neutralen Hörer und einem neutralen Player spasslos AC/DC hören wollen nicht so geeignet, die die Spass beim hören von Rock haben wollen können ihn sich mal anhören. Er soll auch an einem Smartphone laufen, diese Meinung teile ich nicht, wenn ja dann mit etwas mehr Technik oder gleich mit einer anderen Technik, für mich ist er es wert.(er ist zwar laut genug, irgendwie fehlt die Kraft.) Da ich ungerne jemanden zu einem Kauf oder Nichtkauf rate ( es sind meine Ohren, mein Musikgeschmack und meine Erwartung daran wie es klingen soll) werde ich dieses auch nich tun, sollte ich ihn verlieren würde ich mir genau diesen wieder kaufen.
keine 24 Stunden nach der Bestellung hatte ich ihn in der Hand, schneller geht nicht !!!!!!!
Avaliation IE300 - Refurbished
I purchased the refurbished IE300 10 days ago, I really liked the audio quality. Isolation is decent and the fit in the ears surprised. However, I noticed a slight malfunction with audio interruption when there is movement in the wire, I don't know if it's because mine are refurbished, but it was a little disappointing.
Toller Sound - aber das Kabel...
Die Kopfhörer haben einen hervorragenden Klang. Leider wird der etwas getrübt durch das Knistern und Knacken, wenn ma den Kopf bewegt - was an den Kontakten bzw. dem Kabel liegt. Zum einen scheinen die Kontakte nicht richtig zu funktionieren. Zum anderen gibt das Kabel bei jeder Berührung einen dumpfen Knall an die Kopfhörer. Beides ist extrem nervig und verleidet den Hörgenuß.
音は良いです
音は良いですが、接続が甘いのかよく音が途切れます。こういうものなのでしょうか?