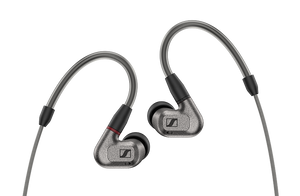 The IE 600 from Sennheiser embodies the audiophile passion for quality with meticulous craftsmanship and exquisitely neutral sound. For exceptional lifetime durability and a unique premium aesthetic, the IE 600 features 3D printed housings made from ZR01 amorphous zirconium for triple the hardness and bend resistance of steel. Its dual resonator chambers eliminate masking resonances for exceptional fidelity, while the TrueResponse transducers ensure incredible tonally neutral, intimate, true-to-life voicing and impactful bass response.
Precision assembly: Transducers are manufactured by Sennheiser using an advanced process to ensure the lowest possible unit-to-unit variations in the miniature, dynamic drivers
Developed in Germany
3.5 mm and 4.4 mm para-aramid reinforced cables with gold-plated MMCX connectors
Ensure an optimal fit - Selection of silicone and memory foam ear adaptors in 3 sizes (S/M/L) and adjustable ear hooks
Impedance: 18 ohms system impedance
Frequency response: 4 – 46,500 Hz
THD : <0.06% (1 kHz, 94 dB)
Sehr zufrieden
Klingen klasse! Und doch, es lohnt sich sie auch an wirklich sehr guten Zuspielern zu verwenden. Man hört es! Service wieder perfekt. Am nächsten Tag waren sie bereits da :)
Fantastic
These sound fantastic and the build quality is great as well. Cable could be a bit nicer but it's not bad
Superb
Just Beautiful Sound!! (specially the mids)
Super in-ear, aber...
Ich habe den IE600 im Outlet gekauft. Leider wurde mir ein Exemplar geschickt, bei dem auf einer Seite die Umfassung der mmcx-Buchse gebrochen war. Dazu gab's noch einen Kabelbruch im unsymmetrischen Kabel. Ich habe ihn daher zurückgeschickt. Schweren Herzens, da Klang und Passform leider großartig sind. Auch wenn es "nur" ein Outlet-Produkt ist, hätte ich bessere Qualität erwartet.