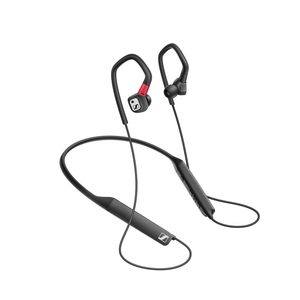 The IE 80 S BT delivers outstanding accuracy and a breathtaking soundstage from a sleek neckband design. Audiophile quality is assured by hi-res codec support including LHDC, aptX HD, and AAC and high-end AKM DAC. The balanced sound can be adjusted via the Smart Control App and its 5-band equalizer. The supplied ear hooks, and choice of ear adapters in silicone, lamellar and Comply™ Memory Foam ensure a perfect fit for excellent passive attenuation and outstanding wearing comfort.
Kann leider noch keine Bewertung abgeben habe die Kopfhörer am 16.april bestellt und leider noch nicht erhalten datum 17.mai
Zu dem Preis genial, ansonsten leichte Schwächen und einstellbarem Bass
Zum aktuellen Preis (100€) sind die Ohrhörer ein Traum! Allein das Bluetooth-Kopfband kostet ja schon 100€, die Ohrhöhrer gibt es quasi geschenkt dazu.
Klanglich sind die Kopfhöhrer allgemein betrachtet sehr gut, auf Sennheisers Spitzenniveau bezogen immerhin noch gut. Beim Bass ist der Klang sehr gut, ich habe ihn deutlich zurückgeregelt, was sehr einfach und effektiv funktioniert. Der Bass ist aber nie einfach dröhnend, sondern klar konturiert. Genial, dass man hier ganz nach seinem Geschmack regeln kann. Schade, dass es so etwas nicht mehr gibt.
Die Mitten und die räumliche Auflösung sind sehr gut.
Die Höhen sind gut, allerdings fehlt die letzte Brillianz, wenn man Sie zum Beispiel mit den HD800S vergleicht. Sie klingen im Höhenbereich für mich eher wie die HD660S2. Aber das ist noch auf sehr gutem Allgemeinniveau und entspricht deutlich teureren Kopfhöhrern. Die Ohrhöhrer kostenten ja ursprünglich auch 500€, was angemessen ist.
Der Tragekompfort ist super, für jedes Ohr sind passende Silikonaufsätze verfügbar. Den Bügel spürt man nicht, aber er gibt ordentlich Stabilität
Genial ist, dass die Ohrhöhrer eigentlich die normale Kabelversion sind, an die statt Kabel der Bluetooth-Teil angeschlossen wurde. Damit kann man (passendes Kabel vorausgesetzt) aus den kabellosen auch wieder kabelgebundene Ohrhöhrer machen.
Die verbaute Endstufe ist sehr gut und klingt nicht schlechter als mein Handy (Sony Xperia 5II der Oberklasse). Es scheint also keinen Grund zu geben, die Kabelversion zu nehmen, abgesehen von der Batterielaufzeit.
Die Bedienung ist hingegen sosolala. Die Knöpfe sind auf der Innenseite angebracht. Leider sind alle auf der linken seite und recht klein. Man muss immer sehr genau fühlen, wo sie anfangen und aufhören, das ist nichts für schnelles Schalten auf dem Fahrrad oder beim Laufen. Besser wäre es gewesen, z.B. Lauter und Weiter auf die rechte Seite und Leiser bzw. zurück auf die rechte Seite zu packen. Aber wenn man hauptsächlich Musik hört, die man mag, ist das nicht so tragisch.
Die Anbindung per Bluetooth klappt sehr gut und die Sprachhinweise über die Audioausgabe (Ausgeschalet, Verbunden, etc.) sind von einer echten deutschen Frau gesprochen, kein Computer-Denglish.
Insgesamt zu dem Preis ein geniales Produkt. Zum Originalpreis müsste man es etwas kritischer sehen, aber wer jetzt nicht kauft, der ist selber schuld. Bessere Kopfhöhrer mit mehr Funktionalität und Klang erhält man für 100€ bei weitem nicht.
Short battery life.
It will lasting for 5-6 hours. Compare to other manufacturer it is not so much.
Sound quality is Ok, can be better for the list price.
Build quality is also ok, the cable isn't seems to be last for many years.
Qualität sehr gut, Akkku etwas schwach.
Der Kopfhörer hat einen recht guten Klang. Die Durchhaltezeit des Akkus ist leider nicht sehr hoch (nicht einmal die angegebenen 6 Stunden, eher 3-4 Stunden). 499 € wären sehr teuer, 100 € sind o.k.
IE 80 S BT Refurbished
Der Artikel ist wie beschrieben, Wer einen neutralen Klang bevorzugt wird damit nicht wirklich glücklich, wer allerdings etwa mehr Bass mag kann damit glücklich werden. Meine Erwartung wurde übertroffen, der Klang ist gut, und der Sitz sehr gut. (ich habe den ein oder anderen in ear ausprobiert und bin damit nie zufrieden gewesen, rutschen haben nicht richtig abgedichtet und entsprechend war der Klang nicht wirklich gut. Darunter auch ein Sennheiser für 199 Euro. ) den Preis für einen IE 80 S BT Refurbished würde ich als sehr sehr gut bezeichnen, selbst den ursprünglichen Preis halte ich für angemessen.