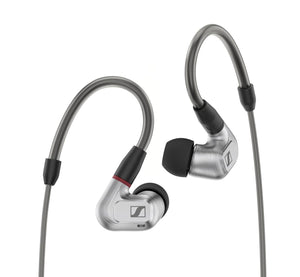 The IE 900 from Sennheiser sets a new benchmark in portable audio fidelity through technical innovation (X3R), meticulous attention to detail, and an uncompromising demand for perfection. Every aspect of the IE 900 has been engineered to work in harmony to achieve the desired acoustic tuning and to reduce resonances and masking effects. Its acoustic design ensures brilliant, natural high-end sound reproduction and reveals even the finest details in the music.
Developed in Germany and manufactured at our state-of-the-art Ireland plant
Transducers are matched during the manufacturing process to practically eliminate variance
One-piece housing is precision-milled from a single block of aluminum
Hand-assembled by a specialist team at Sennheiser´s headquarters to razor-thin tolerances
Selection of silicone and foam ear adaptors ensure an optimal fit for high noise isolation
Adjustable ear hooks adapt to the natural shape of the ear for a tailored fit
Para-aramid reinforced cables with gold plated Fidelity+ MMCX connectors ensure longevity of use
A choice of balanced and single-ended cables (2.5mm/3.5mm/4.4mm) for easy connectivity
Global 2-year warranty
The highest fidelity and neutrality I've achived with any speaker, headphone or IEM yet.
I am glad Sennheiser build these with somewhat off Harman Target frequency response. It is perfect for people like me who (by measuring with sine waves and Pink Noise) know they need less gain in the treble region. Because this is what they do. They offer a almost perfect roll off on the high end and a bass that is just perfect.
I am just a bit disappointed that inside my ear canals they cause a slight peak around 1,5k. As measurements show they shouldn't do that and I am uncertain why that is. Anyways, I believe in having to always account for individual ear and perceptional differences with EQ so that is what I did with the IE900 and after adjusting the graphic minimal phase EQ with sine waves, pink noise and reference tracks over a few days, I achieved a huge step up from the EQed IE600.
Another thing I noticed compared to the IE600 is that they are much more comfortable. They are more light weight and they sound great without needing to put them in super deep into the ear canal. For some reason I needed to insert the IE300 and IE600 deeper in to have good isolation and sound. The IE900 just sit on the entrance and feel like there not there.
Another plus: They are extremely efficient headphones. They can run on ANYTHING. Any decent output is fine. That said be careful with underestimating the volume! Start with low volume and let the ear adjust to the isolation. After a few minutes they get "louder" all by themself. Turning the volume up too high can seriously damage your ears and cause tinnitus!
I am confident I can use these to mix and master my music as well. With and without some crossfeed you got the ultimate studio sound in your ears. I think these might be the last IEMs I buy for many years to come. Thank you Sennheiser for the excellent engineering! Don't buy cheap crap from china. (Tried them all) Go for the real deal.
Lastly the build quality is incredible. You get your moneys worth here. And they look just beautiful. It's also good to know they been manufactured fairly.
For people who prefer less ear gain these are the ones. But keep in mind you always have to EQ headphones and IEMs. Always!
What a fantastic IEM!
Sennheiser IE900 is the best IEM ive ever heard, very large sound stage, the bass is very powerful. 100% recommended!