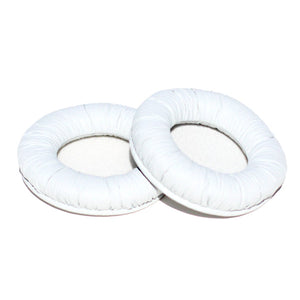 Ear cushion leatherette, white (1 pair) suitable for: PX 200 white, PX 200 II white, PXC 250 white.
Anbringen der Pads geht nicht
So schön es ist, dass es dieses Ersatzteil gibt, so schwierig ist es aber die Pads an den Kopfhörern anzubringen. Auf eine diesbezügliche Anfrage beim Kunden Service – wahrscheinlich Chatbot – bekam ich keine Hilfestellung. Es wäre schön, wenn jemand einen Tipp hätte wie man die Dinger drauf bekommt, ohne sie zu beschädigen.
Good product, but something missing
Hi, the OP-PX200 are of good quality, as expected. I 'm just missing these 2 little headband pads, because they had been worn out as well. Woul be nice if they had been included, since they cannot be ordered seperately and are of the same kind as the ear pads.
Refreshed old headphones as covers had fallen to bits. Tricky to get first one one then found it easy. Looks great, feels great, sounds great!!
Leider gab es den Artikel nicht mehr in schwarz