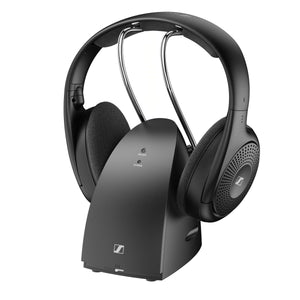 Sennheiser RS 120-W On-Ear Wireless Headphones for crystal-clear TV Listening with 3 Sound Modes, lightweight design with easy volume control, 60m range and convenient combo transmitter/charger
High-quality Sennheiser sound: Enhance your TV listening with crystal-clear, detailed, well-balanced stereo sound.
Sound modes: Three listening profiles - Speech, Music, Neutral - to adjust the sound to your preference for TV, music, podcasts, and streaming video.
Easy volume control: Ergonomic control dial directly on the headphones offers intuitive volume adjustment.
Exceptional comfort: Lightweight on-ear headphones with low headband pressure for optimal wearing comfort during long TV sessions.
Long battery life: Up to 20 hours playback from the rechargeable AAA batteries.
Up to 60m range: Digital wireless transmission ensures no analog static for listening freedom around the home.
Combination transmitter/charging dock: Easy connection to TVs via RCA or 3.5mm plugs while providing a convenient charging station for the headphones.
Broadcast transmission: Enables several receivers to be used with one transmitter for shared viewing experiences.
Great performance at a small cost.
Quiet, light and clear sounds
Very quiet is light on the head and gives very clear sounds. I do not need to have my hearing aids in and I adjust the sound to my liking without having it loud for everyone else.
Happy with earphones, fit well over my hearing aids and therefore can hear TV more clearly.
No problems setting up which was good 👍
Thank you
Not what I wanted. Its being returned.
Just Perfect
We bought a pair of headset many years ago and wanted a new one: I ask the customer care service help to choose the right one and they were amazing. The headset is wonderful and the sound is flowless and powerfull, plus no complicated settings to meke them work: you just plug, turn it on and enjoy.