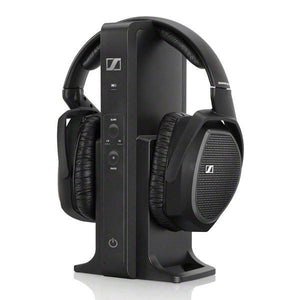 Taking home entertainment to the next level, Sennheisers RS 175 offers an impressive range of features in a compact, ergonomic package, so that you can enjoy music and television to the fullest. The Bass Boost and Surround Sound listening modes will allow you to experience your home entertainment system like never before the former increases the audio bass response while the two virtual surround modes offer a more spatial and livelier stereo sound. Whats more, the innovative digital wireless technology ensures that signal transmission remains clear and accurate as you move from room to room. Additionally, the user-friendly design makes it easy to set up and enjoy the RS 175. The main controls are located on the headphones, so nothing will distract you from an exciting audio experience, and the comfortable fit is ideal for extended periods of use. Sennheisers RS 175: Home entertainment just got more entertaining!
Excellent
I needed to replace my wonderful sony wh700n headphone. I tried the too expensive wh1000-4 and I didn't like it. Not good on pc and too much sortware. Also it is just not the materials you expect from that much money.
Therefore I tried this one. No software, just a good headphone by itself. Bass and surround is everything you need to have a great music and cinematic experience. I haven't lost connection in any way with it yet. I use it myself for gaming and talking to my friends in discord. No problems with it.
I like that you could take apart the headphone, so you can replace batteries or earcaps when needed.
The only downside for me is it is getting sweaty after a few hours. It isn't much of a downside because it is a good reminder to take a pause from programming or gaming.
Excellent quality for the money
This is our second purchase of RS 175. Now we both have access to clear dialog and music from our favorite TV entertainment. Can also opt for quiet in the room while other person uses headphones. Would not want to be without them. Also excellent solution for hearing impaired person. RS 175 works!
Hearing Convenience
I've used Sennheiser Radio Headphones for 10 years now, but the new, connected by Bluetooth headphones, are superb. Very easy to use with excellent sound quality and stereo image. I have only one gripe. Previous models had a mute button (who needs to hear all those commercials?). These new ones don't.
RS 175 U perfect
Incredible sound With bass effect like cinema!