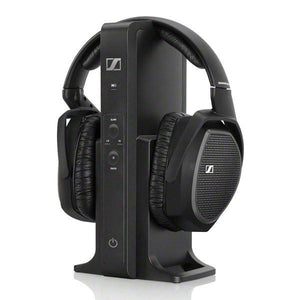 Taking home entertainment to the next level, Sennheisers RS 175 offers an impressive range of features in a compact, ergonomic package, so that you can enjoy music and television to the fullest. The Bass Boost and Surround Sound listening modes will allow you to experience your home entertainment system like never before the former increases the audio bass response while the two virtual surround modes offer a more spatial and livelier stereo sound. Whats more, the innovative digital wireless technology ensures that signal transmission remains clear and accurate as you move from room to room. Additionally, the user-friendly design makes it easy to set up and enjoy the RS 175. The main controls are located on the headphones, so nothing will distract you from an exciting audio experience, and the comfortable fit is ideal for extended periods of use. Sennheisers RS 175: Home entertainment just got more entertaining!
einfach gut
Klingen für mich sehr gut. Super Kauf, noch besser als mein alter rs165.
Wie immer voll zufrieden mit Sennheiser!
Refurbished but like new.
I seemed to get onto the German site first but found my way to the English version .Excellent price, big saving on new but still with a 2 year warranty. Arrived within 2 days all original packaging and though refurbished there are like new. I did as I was told and charged them for 16 hours, All I can say is brilliant. I now don't have any trouble with dialogue on films and the backing music comes across as though you were sat in a film theatre. Just the job for an ageing film buff like me who has lost some hearing frequencies. Have told all my similar aged friends about them as they have hearing problems with TV as well. So glad my research on these thing led me to Sennheiser products.
RS175 Wireless Headset with nice Sound for music an films.
Most important features:
Pros.
Sound quality,
Possibility to combine sound effects.
Basses available
Cons
Discomfort caused by heat after periods of prolonged use.
The Wireless reception range does not match the set even without indoor obstacles, much less than the 100 meters announced.
(If you're not in direct line-of-sight or close to your source and the transmitter, then the headphones are practically unusable).
Excellent casque, des réglages à la volée et une bonne finition... mais attention au confort
Branché sur une source de bonne qualité vous profiterez d'une qualité satisfaisante sous réserve de bien ajuster les réglages de bass et de surround. En dehors des films ça peut desservir la musique. Pour les jeux, c'est le feu, très immersif !
Un petit bémol pour les longues sessions, avec une pression sur les oreilles qui peut gêner les grosses têtes...