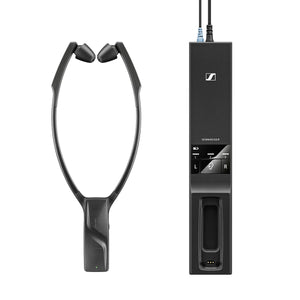 Personal TV Sound Control +
The RS 5200 brings crystal clear Sennheiser sound to the TV listening experience - with the freedom of digital wireless and effortless everyday simplicity. With intuitive listening modes to enhance speech clarity and specific frequencies, it's easy to personalize the sound. And thanks to a lighter, ergonomic design and an expanded choice of ear tips this perfect audio experience can be enjoyed during longer viewing sessions in perfect comfort.
Enhanced audio clarity
––
Experience crystal clear digital wireless sound
––
Choice of 3 hearing profiles to optimize TV and music sound
––
Speech Clarity Function for clearer dialogue
––
Balance control allows independent volume adjustment of left and
right sides
Ease of use
––
Auto On/Off so there's no forgetting to turn off the headphones
––
Charging reminder when the 12-hour battery life is running low
––
Quick and easy set up with digital and analog audio inputs
––
Elegant horizontal docking station also functions as an 'easy-charge' cradle
Comfortable and functional
––
Lightweight receiver design with reduced pressure on the temples
for enhanced comfort
––
Selection of ear adapters in silicone, memory foam and open foam
for the perfect fit & disturbance-free TV
––
Intuitive operation with volume directly adjustable on receiver
––
Freedom of movement with 70 m / 200 ft wireless range
Alles bestens
Super schnelle Lieferung, Ware Top,
Dankeschön immer wieder gerne.
Sehr gutes Produkt für meine Großmutter
Ich habe diese Kopfhörer für de Fernseherlebnisse meiner Großmutter gekauft. Sie ist sehr glücklich damit. Der Anschluss am Fernseher war auch sehr einfach. Mit den beiliegenden verschiedenen Gummiauflagen für die Hörer am Ohr lässt es sich gut anpassen.
Sehr angenehm
Der Klang ist hervorragend und ich störe abends die Nachbarn nicht mehr. ;-)
Neues Fernseherlenbnis
Mit dem Gerät hatte ich ein völlig neues Fernseherlebnis. Ohne meine normalen, hochwertigen Hörgeräte konnte ich Spreache und Filme wieder völlig neu geniessen. Uneingeschränkte Empfehlung
Excellent
We've had the product before and find it excellent. Would thoroughly recommend to other people.