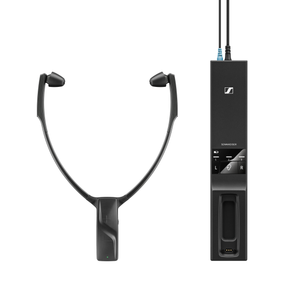 Set your TV volume exactly where you want it, any time of day or night, with the elegant RS 5200 earphones. You'll get crystal clear audio and hours of operation for extended viewing. The integrated Speech Clarity feature makes sure you never miss another line from a movie or show — even if actors mumble or the soundtrack interferes. Choose between three special listening profiles for television, movies, or music. Sit anywhere you like with your wireless earphones and enjoy every second of dialog in immersive Sennheiser sound.
B-Ware aber trotzdem Qualität!
Meine Gattin verwendet das Gerät. Positive Erfahrung allgemein. Es sollte nur noch leichter sein.
Súper Rápido, perfecto estado
Unos auriculares de calidad superior vale la pena lo que cuestan!
Choisi pour une personne âgée, afin de retrouver un confort d'écoute avec sa TV.
Facilité d'installation, confortable à porter, et très bonne qualité de son.
Un peu cher, mais la qualité à un prix !