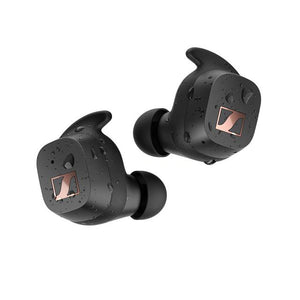 SUPERIOR SOUND WITH ADAPTABLE ACOUSTICS
Sennheiser Signature Sound

– Powered by Sennheiser TrueResponse

transducer, a 7mm dynamic audio driver that delivers a high-end sound

experience with full bass.

Adaptable Acoustics

– Open and Closed ear adapter options let you choose

between either higher running comfort with more situational awareness or

blocking outside noise for a focused and immersive audio experience.
A SECURE, COMFORTABLE FIT YOU CAN DEPEND ON
Secure Customized Fit - 

Interchangeable fins and a choice of ear adapters

let you achieve a perfectly secure fit.

IP54 Dust, Splash & Sweat Resistance  - 

Durability you can count on for your

toughest workouts – the earbuds take on dust, rain and sweat.

 

Battery Life

– 9 hours playback with up to 27 hours with the charging case.
STAY AHEAD WITH ADVANCED SMART FEATURES
Built-In Equalizer

– Tailor the sound experience using the Smart Control App.

Intuitive touch controls

– Touch interface control of music, calls and voice

assistant for effortless operation.

Adjustable Sidetone

– Sidetone makes phone calls more comfortable by

letting you hear your own voice during calls.

Connectivity

– Compatible with Bluetooth 5.2. Connects to TV and Sport

equipment so you can stream your workout at home or stay connected

in the gym.
Top Abwicklung und Qualität
Great sound, great value. Comfortable.
The ear buds are comfortable when used with the right combination of included accessories. The battery life is very good, both the buds and the transport box are lightweight but the built quality seems high.
SOUND: Clear and defined. It has a nice amount of LF and HF (lows and highs).
ATTENUATION: This is a "sport" product and as such I think this is ok. You can choose two levels of isolation by changing the ear canal adapters and it works very well keeping in mind that you need to be aware of the context/environment you are.
It do miss active sound cancellation while communing in the train or subway...but at this price it would be unreasonable that the product covers this super wide range of application.
FIT: The buds are good. They don't get loose while training (I do callisthenics, yoga and bike mainly).
Go for it!
Good Sound and Good Fit
The sound of the Earbuds are really good for my Taste and hold even during the hardest Head Banging or Karting around a Circuit. The many fitments accompanying the Buds make a nice Individual fit after some trial and error.
Perfect for outdoor and high intensity activities, the only drawback is the lack of fine adjustment levels in the App to control the sound more precisely.
Génial
J'avais d'anciens écouteurs chinois pour marcher, faire des tâches ménagères ou encore jardiner. Je croyais que le son était bon mais c'était avant d'essayer ces écouteurs. Le son est bien plus riche et profond, je suis complètement coupé du monde c'est un bonheur, et encore ce sont les entrées de gamme de cette marque.
Good headphones
The headphones have a good quality and the music sounds really good. I have some problems with finding the right fit for them though