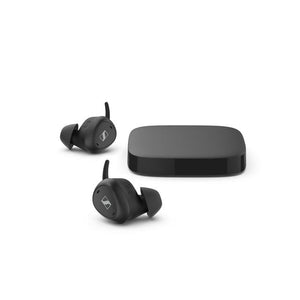 The new TV Clear Set from Sennheiser lets you enjoy television with superior speech clarity and all the comfort and inconspicuous style of True Wireless earbuds.
ADVANCED TV LISTENING:
– Crystal-clear dialogs: thanks to 5 speech clarity levels – Distraction-free TV: set the volume of the earbuds to suit your hearing preference and enjoy undisturbed viewing without disturbing others
– Ambient Awareness mode: hear your surroundings when you choose
– Long-lasting wearing comfort: thanks to a light-weight earbud design that does not interfere with your glasses or press on your temples – Cable-free design: reduces body-borne noise and gives freedom to move – Battery life: listen for up to 15 hours playback time on a single charge
MULTIPLE DEVICE CONNECTIVITY:
– Connect to any TV: with optical or analog output thanks to the transmitter
– Bluetooth: seamlessly connect the earbuds with your tablet or mobile phone
– Stay in sync with the video content: the supplied transmitter uses streaming technology to send audio with low latency
– Phone calls: receive and make hands-free calls from your mobile phone
EASE OF USE:
– TV Clear App: for easy setup and to customize settings
– Locate your earbuds: easily with the "find my earbuds" feature
– Intuitive touch controls: that can be personalized just the way you prefer
Sehr gute Leistung
Ich bin mit dem TV Clear Set insgesamt sehr zufrieden. Hin und wieder bricht die Verbindung zum Sender ab, wenn ich mich zu weit entferne, ab ca. sechs, sieben Metern wird es kritisch, dann hört man auf der dem Sender abgewandten Seite nichts mehr. Das alleine ist nicht schön, aber man kann es verschmerzen. Störend wird es dann, wenn die Buds beim Erreichen ihrer Empfangsentfernung die Verbindung nicht von selbst wieder aufnehmen, sondern man sie vielmehr aus den Ohren nehmen muss um den Empfang wiederherzustellen.
Ich umgehe das jetzt, indem ich die Geräte aus den Ohren nehme, bevor ich mich vom Fernseher entferne. An und für sich keine große Sache, aber mitunter möchte man (z.B. die Nachrichten) hören, auch wenn man gerade mal kurz in der Küche ist, um z.B. ein Getränk zu holen.
Die Tonqualität ist sehr gut, die Regelung der "Sprachverständlichkeit" ist für meinen Geschmack zu scharf, ich benutze sie gar nicht.
Die Akkuladung reicht lange, abgesehen von der Tatsache, dass die Buds mit dem Einlegen in ihre Box ohnehin aufgeladen werden.
Die Taster-Bedienung sowie das "Klopfen" auf den Rand funktionieren tadellos.
Regelrecht begeistert ist meine Frau, die endlich wieder bei normaler Zimmerlautstärke fernsehen kann :-)
Die earbuds fallen immer wieder aus dem Ohr, trotz verschiedener Aufsätze. Ich bin enttäuscht. Was kann ich als Lösung kostenfrei machen?
Hörgeräte
Es wäre schön wenn es Hörgeräte gäbe, die die selbe Leistung hätten wie die Sennheiser Ohrstöpsel. Leider ist der Linke etwas zu groß und drückt im Gehörgang, so das man die Ohrstöpsel nicht so lange benutzen kann wie man möchte.
great product
easy to set up, easy to use, it is now a pleasure to watch TV
very happy with the quality and great value
TV Clear Set
Tatsächlich habe ich Probleme mit dem TV Clear Set.
Während die Verbindung über Bluetooth zum Handy kein Problem war, habe ich es nicht geschafft, dass TV Clear Set an den TV anzuschließen. Ein kundiger Freund hat das für mich probiert und herausgefunden, dass das 3,5 mm Klinkenkabel defekt ist, da die Verbindung mit einem Austauschkabel funktioniert.
Die Ohrstöpsel halten nicht gut in meinen Ohren, sie haben die Tendenz herauszufallen. Ich habe kleine Ohren und auch die kleinen Adapter probiert.
Nun bin ich unsicher, ob In-Ear-Kopfhörer überhaupt etwas für mich sind.