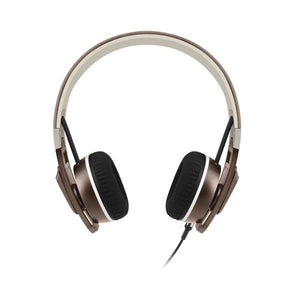 Step up and step out, it's time to let your ears be loved. Sennheiser's new URBANITE headphones are the new choice for great sound, deep bass, and urban style on the move.
The new mobile headphone range - including the on-ear URBANITE and over-ear URBANITE XL - deliver an intense club sound, serving up massive bass but with Sennheiser's uncompromising audio expertise ensuring excellent clarity through the entire frequency range. URBANITE headphones are for those that love their tunes heavy and love to look good, but who always respect great sound. The URBANITE range is perfect for staying connected on the move, with integrated in-line remote controls and microphones for taking calls and controlling music on smartphones and tablets, with two dedicated versions for either Apple iOS, or for Windows Phone and Android devices, such as Samsung Galaxy models. A range of colour choices includes black and denim across all models (both for iOS and Android), with the iOS URBANITE also available in sand, nation and plum and iOS URBANITE XL also available in sand, nation and olive.
Ready for a life on the go, URBANITE headphones are tough enough to take on anything life can throw at them and constructed from durable, high quality materials. The stainless steel hinges add a striking touch of rugged urban style to cool design like the fabric-wrapped headband. But as it's Sennheiser, looking good and performing brilliantly are one and the same: The use of metal on the premium hinge mechanism - like the tough aluminium sliders - mean these headphones are styled to last. Being tough is a perfect fit for a life on the move, and a perfect fit comes naturally to all URBANITE headphones: The durable sliders and hinges work with the super soft ear pads to insulate the listener from external noise and ensure great comfort for even long periods of listening enjoyment. And with its over-ear design, the URBANITE XL offers even greater levels of comfort – the larger ear pads simply feel better.
Both models of URBANITE headphones feature a unique foldable design that makes it easy to collapse for safe storage in the supplied soft pouch.