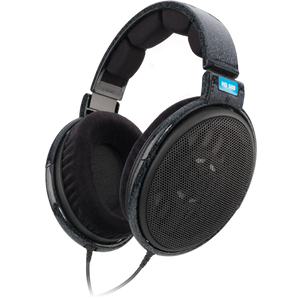 The HD 600 is an audiophile-grade open dynamic hi-fi/professional stereo headphone. The advanced diaphragm design eliminates standing waves resulting in a clean sound free of artifacts and acoustical disturbances. The HD 600 is a fantastic addition to a hi-fi stack or dedicated listening room, and is a favorite among mastering engineers worldwide.
Reference
A definite must-have for every audio enthousiast. The perfect reference headphone to set a benchmark for the rest of your collection.
Perfect for home studio
Well balanced sound with great clearity.
Good as always
I bought these as a replacement for my very old HD600s. After replacing one ear cup, I finally needed to replace the second and it seems they no longer sell replacements for the hardware - just the ear cushions and such. It was probably time for a new pair anyway. I wish they looked like the originals - not that I loved the marble pattern, but just for nostalgia's sake, but they still look nice. Most important, they still sound great. I have to turn the volume up on my preamp one notch more than before to get the same volume, but it sounds the same as I remember - my favorites. I use them with a Bottlehead Crack with Speedball and upgraded caps and a NOS Tung-Sol tube.